This body of work is based on an obsolete combine harvester that was left on my property in Walter's Falls, Canada.  I tore the combine apart and used the various moving parts to make large kinetic sound sculptures that involve viewer participation.  The Combine Project has been exhibited at the Tom Thomson Art Gallery in Owen Sound ON, Laurier University, Waterloo ON, Grimsby Public Art Gallery and the Hamilton Museum Of Steam And Technology.  To read the artist statement, please scroll to the bottom of this page.  To read what the press has said about the show, click here.  To view VIDEOS of the kinetic sculptures, click here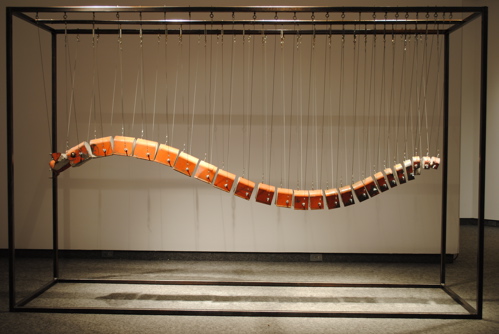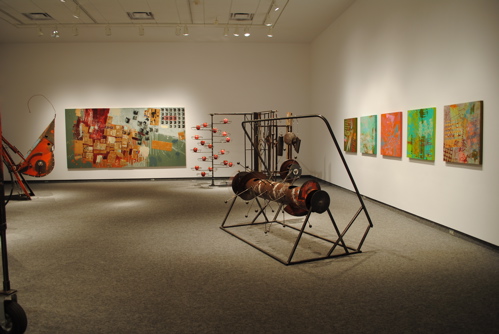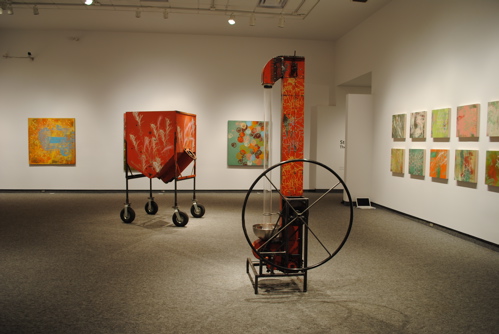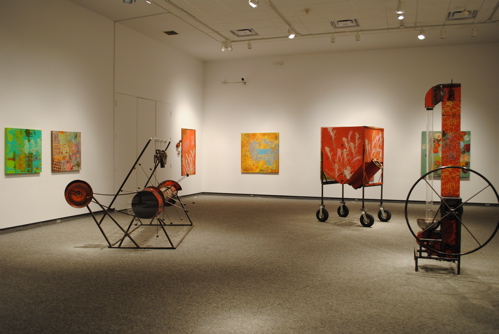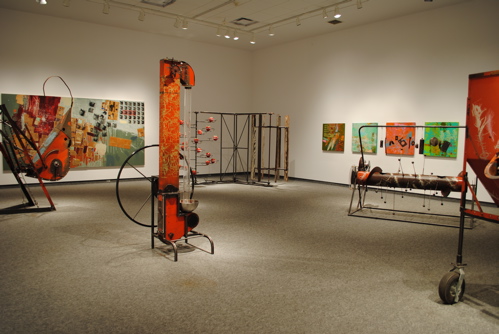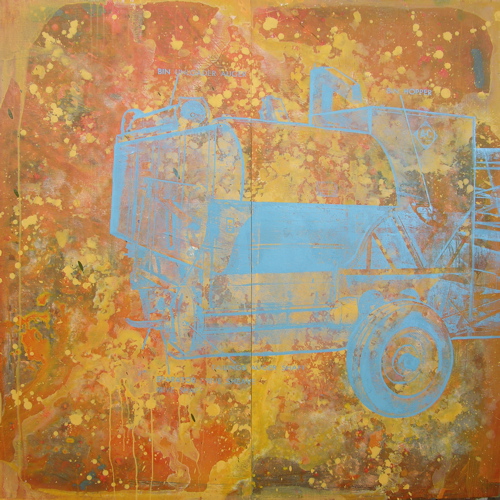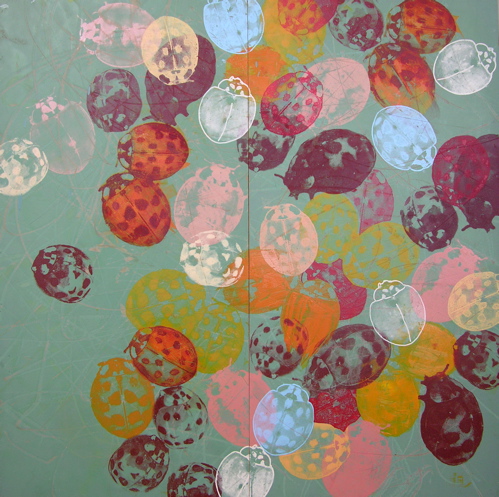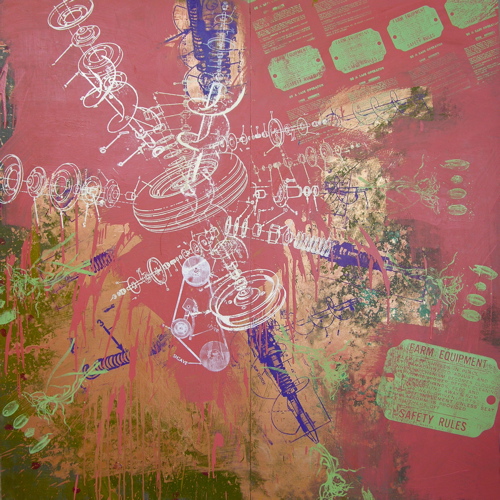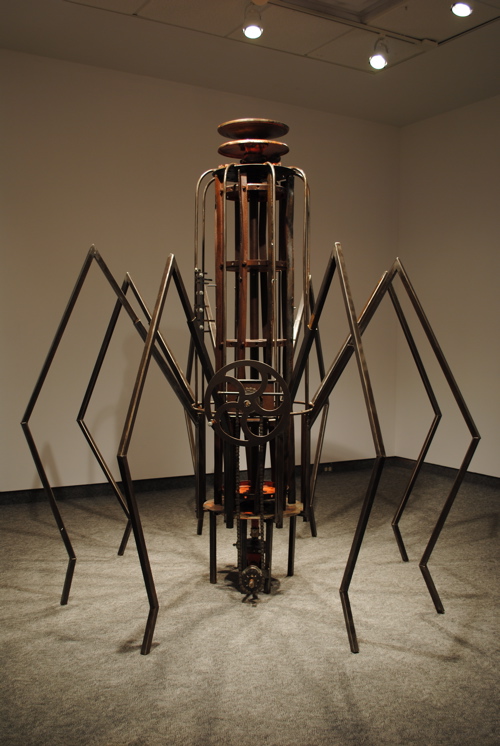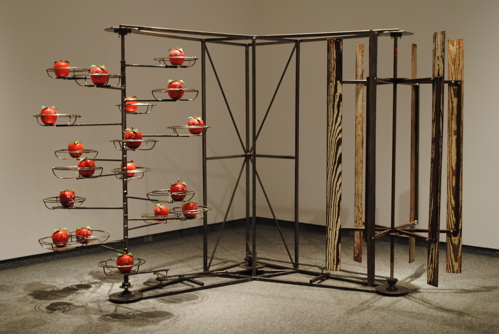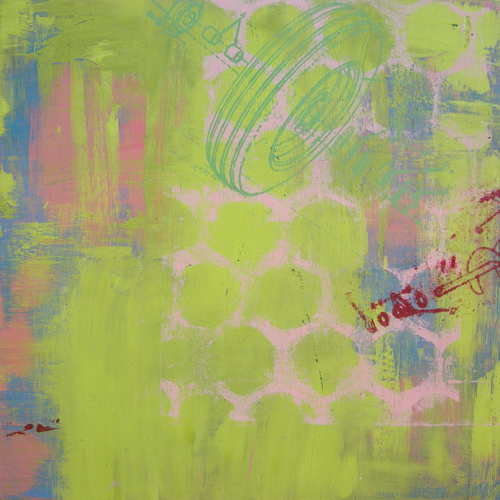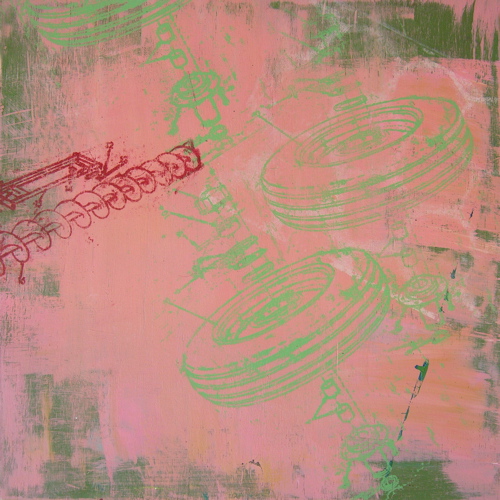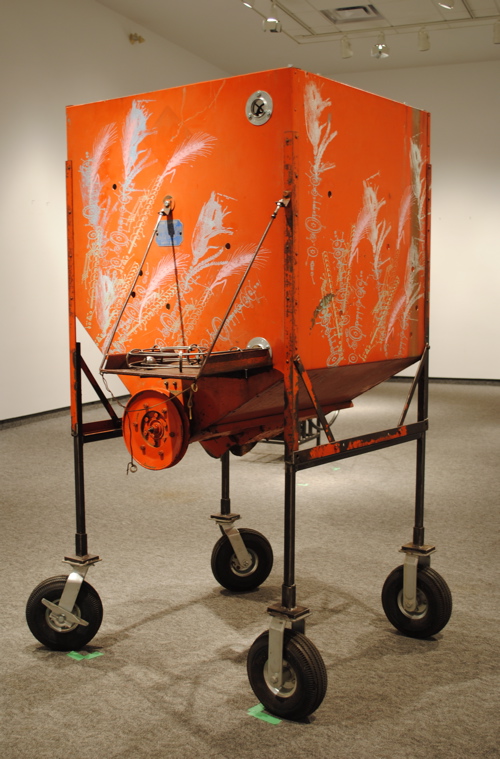 Grain Bin Sound Machine: 78″x 36″x 36″ media: combine harvester parts, lithograph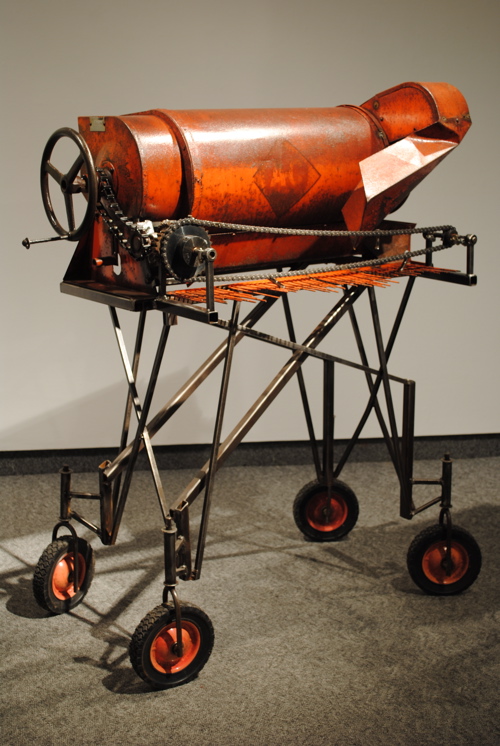 Tooth Organ: 60″x 16″x 36″ media: combine harvester parts, steel, wheels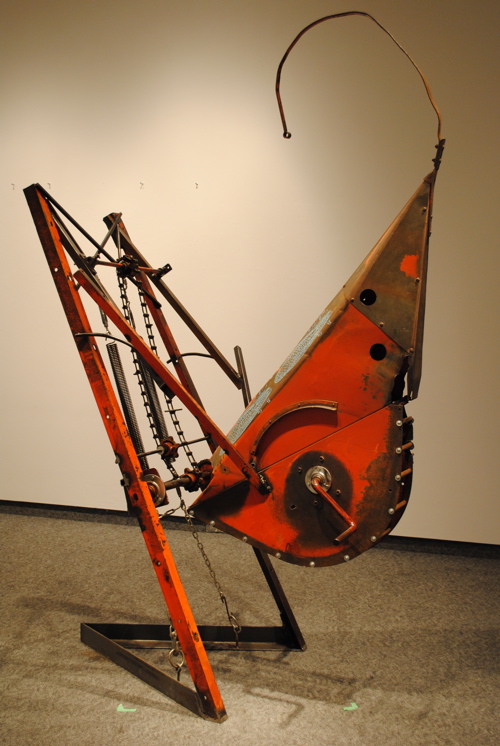 Cricket: 100″x 24″x 36″ media: steel, combine harvester parts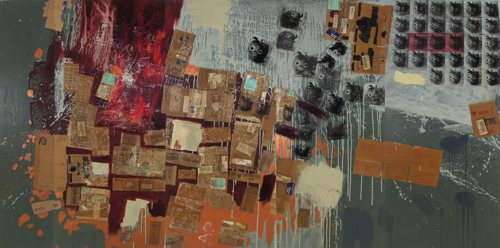 Happy Apple Shipping Spree: 78″x 144″ media: Lithograph, paint & cardboard on

Bee Breakdown: 42″x 108″ media: combine harvester parts, lithograph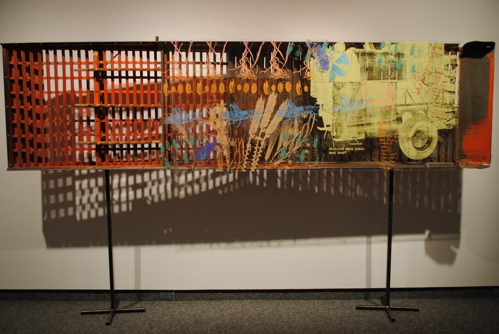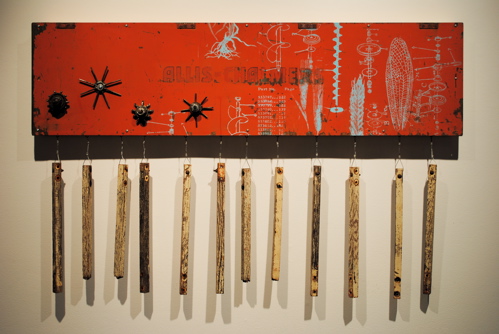 Combine Project Artist Statement
STEVEN WHITE
In 2000, my wife and I moved from Toronto to a property in rural Ontario.  One of the things left abandoned on the land was a 1964 Allis-Chalmers All-Crop combine harvester.  This huge piece of obsolete farm machinery was completely intact and contained a world of moving parts.  I have since dismembered the combine and used the various parts to build a large body of kinetic sculptures that produce sounds and involve viewer participation.  Images taken from the original owner's manual are combined with botanical drawings of crops and lithographed onto the flat steel surfaces of the combine and painted wood panels.  I am interested in the tension that exists between the natural and the man-made.
Many of the parts I have pulled out of the combine are mysterious and bizarre, bringing forth a sense of curiosity to those not familiar with this type of technology.  I was initially drawn in by these qualities and decided to take the investigation as far as possible.  This body of work took 5 years to complete and the resulting sculptures and prints reflect a playful sense of wonder at the possibilities present with these lost fragments of technology.
The symbolistic potential is rich within this type of subject matter.  The current fate of the family farm is uncertain, as factory-style farm operations have become one of the only ways for farming to remain profitable in our changing global economy.  Genetically modified organisms have become commonplace.  The evolution of technology has changed to now include the plant world.  Large biotech companies are securing patents on genetically altered seed stock, referring to their products as "technology".  It is clear that we are in a period of rapid change and the abandoned combine harvester acts a metaphor for these changes.  The interactive nature of this work brings the viewer into direct physical contact with these ideas and engages them in a playful dance.  Cranks get rotated, sounds are produced and our individual roles in these complex webs are highlighted.  In an age of intense digital technological development, the low-fi nature of these sculptures engages the viewer, who then becomes a collaborator in the finished work.